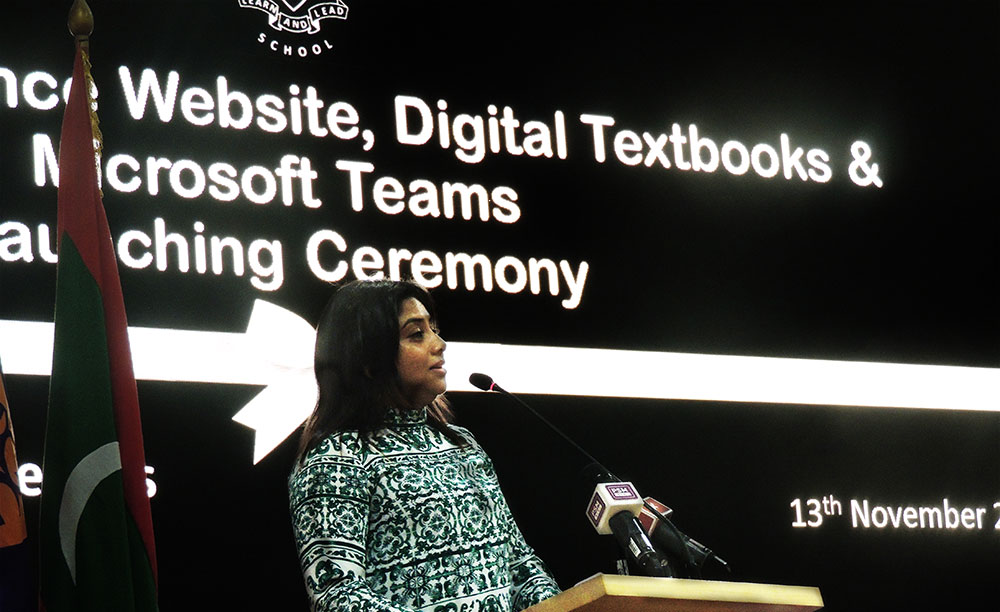 The GIS  Web based Career Guidance , Microsoft Teams and Digital Textbooks were launched in a  special ceremony held in the school hall on 13th November, 2017.
Special invitees from other colleges, teachers, parents and students of grades 7 to 9 participated in the event. The chief guest of the ceremony was the Director General of the Ministry of Education, Ms. Fathimath Azza.
Two  web based platforms, Naviance and 100mentors, will be used to provide career guidance, to assist students to become aware about their career options and prepare them to make better informed decisions. This is the first time in Maldives such a platform is opened for the students to explore, connect and engage in the career related information as and when they require.
Naviance will be used by students to explore careers based on their interests, strengths, personality, and learning styles. The platform will help students to make a personalized plan for them and create a pathway to achieve their goals.
100mentors includes a database of world renowned organizations such as Google, Microsoft and Nestle, and Universities such as Brown University, Stanford University and University of Cambridge. Students of GIS will be able to communicate with mentors from these organizations and universities about their journey and opportunities that are available for them in any particular field.
The school being a Microsoft showcase school, has been introducing different applications and the most recent one the school has started using is Teams. It is a digital hub that brings conversations, content, and apps together in one place. Educators can create collaborative classrooms, connect in professional learning communities, and communicate with school staff. Microsoft Teams integrates all the office applications, OneNote Class notebook and assignment management.
In his address at the ceremony, Principal Thoha Saleem said that Students of GIS will not have to wait for the yearly career guidance session anymore. Now the students can do self-surveys and assessments at their convenience and confirm their strengths and weaknesses and explore the subject clusters that matches with their strong areas and make informed decisions when choosing subjects. He also announced that the school is ready to begin using Digital Textbooks in 2018 for the secondary grades and this will be gradually expanded and used in other grades as well.
The Chief Guest of the ceremony Ms. Fathimath Azza congratulated the school on the new initiatives and called upon the students to make use of the many opportunities GIS is offering and to make good use of it and to consider themselves very lucky to be at GIS.

We thank our career guidance counsellor Ms. Barra and Educational Technology coordinator Mr Wilson for their untiring efforts in making both career guidance programme  and digital education in GIS a success. Most of all, we thank Principal Thoha Saleem for his visionary leadership and his efforts to develop the technological skills in the students and staff to face the challenges of 21st Century teaching and learning.